Roof Ventilation In St. Charles County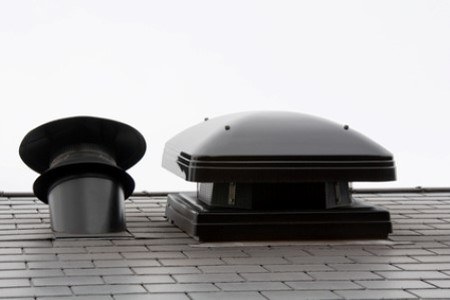 At times when energy costs are high, many families may be seeking a way to reduce their energy bill. Many homeowners may be unaware that improper attic ventilation can increases in their monthly energy bill. During warm summer days attics can reach over one hundred and thirty degrees. The reason an attic can get this hot is the heat has no way to escape due to improper ventilation. With these scorching temperatures in the attic can cause roofing materials to deteriorate. Eventually this will turn into leaks and loose shingles.
Our St. Charles County roof inspectors can assess that your attics is properly ventilated or is not. Our goals is to implement a proper ventilation system that will preserver your roof, protect your home and lower your energy bills. Call Auchly Roofing today to schedule your roof ventilation inspection today.
Our St. Charles County Roof Ventilation Services
Roof Ventilation
Roof Ventilation Inspections
Attic Ventilation
Attic Ventilation Inspection
Roof Inspections
Ventilation System
Ventilation Installation
Roof Repair
Residential Roofing
Commercial Roofing
Roof Replacement
Exterior Remodeling
Why St. Charles County Should Hire Us For Their Roof Ventilation
We offer roofing solutions that add appeal and efficiency to your home. Our St. Charles County roofing contractors can personalize your roofing job to fit your individual tastes. It is our main goal as a reputable roofing to serve our clients with excellence and integrity from the initial consultation to the completion of their roofing project. You can rest assured that all your home needs are in good hands.
Auchly Roofing provides our clients with up front pricing on our roofing services so that you don't have to worry about any unexpected charges after your job is completed.

---
Need a Roofing Professional?
Contact Auchly Roofing Today